Whatever are you doing this for?!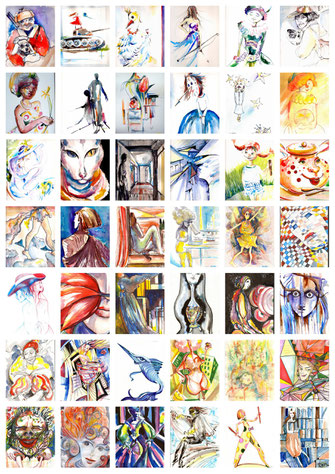 If you clicked here, you must be prone to asking questions. Indeed, why should anyone bother with drawing pictures, writing stories, in short, doing this kind of nonsense without any valid, reasonable or noble cause?

I can tell you why, even if it sounds utterly stupid: I am doing this - we are doing this, but I can only speak for myself - because I believe in goodness in people. Yes, still!

I believe that if I reach out my hand to you - you will not bite it off. Or spit into it. The most evil thing you will do is probably just ignore it, right?

And because I believe in our inner goodness, I also believe that it makes sense to reach out to other people just to have a little fun. Not in the morbid sense of this word, mind you.

I enjoy drawing my pictures just for the fun of it. Hopefully, other people enjoy writing their short stories just for the fun of it. Or reading them - just for the fun of it.

And if it helps just one person to forget about their current problems, take time to do what they enjoy and – most importantly - use their imagination I will see my project as useful and successful. I don´t need to tell you how important it is to have a well-trained imagination, fit for this world. And I am afraid there are not so many fitness studios around to help you get your imagination back in shape.
You can regard this site as one.
If you decide to join in - choose any pair of pictures you like, write your story based on them or inspired by them, go to the Contact page and send it to me - and voila, soon you will see it published here!

I want you to have a little bit of fun today.
Just because you can!
Yours,
Elena